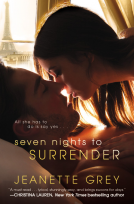 By day, he'll show her a side of Paris not found in any guidebook. By night, he'll introduce her to a passion beyond her wildest dreams. In this sensuous story of indulgence and desire, Jeanette Grey delivers one of the most romantic reads of the year and proves why she is fast becoming a must-read star.
---
SEVEN NIGHTS TO SURRENDER
Kate arrives in Paris hoping to find inspiration. Instead she finds Rylan. In a swirl of stolen kisses and hot, tangled sheets, Kate is quickly swept away by the sexy stranger, longing to surrender to his expert touch. With Rylan, nothing is forbidden-except the truth.
An American ex-pat worth millions, Rylan never flaunts his fortune. Rather, he guards his identity from everyone, especially women. No strings, no commitments, no complications. But the second his lips taste Kate's soft, sweet skin, everything changes. For the first time, Rylan has found someone to share his every want and need. Yet he knows that secrets stand between them. To keep her, he'll need to confess the truth before it's too late . . . even if doing so could mean losing Kate forever.
I really loved this book, up until I realized it was going to end before it was actually over. Another case of not realizing there was a follow up story to go along with Seven Nights to Surrender. Granted, it wasn't the worst cliffhanger I've ever had, but I was sad to put the book down and am anxiously waiting Eight Nights of Ecstasy. Anyways…
The story revolves around Kate and Rylan. Kate's visiting Paris in an attempt to figure out who she is as an artist and decide what she's going to do with her future. She meets Rylan, a man hiding out from his family obligations, in a coffee shop where her wallet gets stolen. Seeing an opportunity to woo a woman into his bed, Rylan swoops in to save the day and buying her a cup of coffee.
Rylan offers to show her Paris and help her see all the art and architecture the city has to offer. He doesn't explain that he's a trust-fund guy, slumming around Paris as a way to get over his family issues. He lies to her and makes her think he's just your average working class guy.
Kate's been hurt in the past and her sexual history is one sad, sad tale. Rylan wants to fix that and is determined to change her mind about sex.
I always enjoy Grey's characterizations and the depth and complexity she manages to give her characters. Rylan isn't perfect and Kate isn't either. Grey gives us a sexy romp around Paris, but also gives us all the splendor that is Paris and falling in love while on vacation.
My only real issue was that this story doesn't end prior to the book coming to a close. It's not a huge cliffhanger, but I wasn't ready for it to end when it did either. I am anxiously waiting for book two in this series to finally get the satisfying ending I was hoping for in this one.
Check it out – it's a steamy read with great scenery, an interesting plot with complex characters. Another great read from this author.
About the author:   Jeanette Grey started out with degrees in physics and painting, which she dutifully applied to stunted careers in teaching, technical support, and advertising. When she isn't writing, Jeanette enjoys making pottery, playing board games, and spending time with her husband and her pet frog. She lives, loves, and writes in upstate New York.
Social Media Links: