Nose in a Book Reviews: The Big Girl Panties Series by Carter Ashby
When I started reading this series, I wanted to like it.  In fact, I honestly fell in love with the heroes in the first two books.  Unfortunately, it was the leading ladies that fell flat in each of the stories, not to mention the cad of a man featured in the last one, but perhaps I'm getting ahead of myself.
The stories all revolve around a trio of friends who have been besties since they were kids.  Zoey, the hard as nails woman who's built up a wall around her with a tongue that spits venom.  Her friend Maya, a timid woman who's been in an abusive marriage since she was saddled with a teen pregnancy, leaving her with no other options until she's finally beaten beyond the point where anyone can turn a blind eye any longer.   Last, there's Addy, a well to do girl whose parents expect her to live up to their impossible expectations.   The girls have been through thick and thin throughout their lives, and the series tells the tale of their adulthood and finding the loves of their lives.
 Zoey and the Nice Guy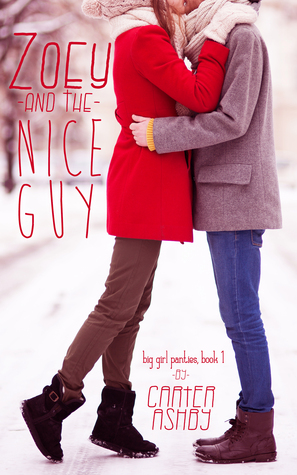 Genre: Romance
Rating: 3 ½ out of 5 Stars
The Series starts with Zoey helping Maya out when her friend seeks help to escape the clutches of her abusive husband.   Maya's brother-in-law, Kellen, is a saint of a man who vows to help Maya and make sure his own brother pays for what he's done to her.  The only problem is Zoey.    Zoey thinks she can handle everything with her vicious tongue and no nonsense attitude, least of all help from the goody-two-shoes Kellen Bradley.
Here's the thing, Zoey is CA-RA-ZY!  She has major anger issues and is a very unlikeable character.  I get the juxtaposition the author is trying to go for; especially since Kellen is one of the nicest people you could possible put down on paper.
The pair takes care of Maya's two children all the while falling reluctantly in love with one another.  Unfortunately even with Kellen's calming factor to level out Zoey's brand of crazy, wasn't enough to save this book for me.  The plot was interesting and the author did draw me into the story and I wanted to find out what happened with Maya in the next in the series.  An average read for me.
Maya and the Tough Guy
Genre: Romance
Rating: 3 out of 5 stars
Book two in the Big Girl's Panties Series is all about Maya and her attempt to move on after living in an abusive marriage for almost half of her life and Jayce, the hulking man who's had a crush on her forever.
Maya doesn't remember much about Jayce other than he's the best friend of her ex's brother, Kellen.   Jayce seems to want to help Maya in any way he can, but Maya is terrified by his mere presence and shirks away from him when he draws near.  It breaks his heart to see her so fragile and after some persuasion from his friends he offers her a job at his bar to help her pay her bills.   With Maya's friend's help, Jayce bolsters up her confidence in herself and that she's an attractive woman who deserves to be loved.
I thought the author did a good job detailing the issues that battered women feel in regards to their self-worth, but Maya grated on my nerves.  Her recovery was a little too quick and easy for my liking.  This just doesn't happen overnight and I thought that part was really glossed over.   I will say I loved Jayce.  Just like with the author's previous story, I loved the hero she presented us with.  I'm a sucker for a tough guy with a heart of gold.    There were also times when the author's prose would read a bit amateurish and clunky.  Not all the time, but it was enough to break up the story and for me to notice it.  I can't put my finger on exactly what it was, but it would happen for a page or two, and then stop for a while and then repeat itself through the story.  Just distracting to the overall flow of the story.
Didn't love this book because of those reasons, but for those of you who liked Zoey and the Nice Guy will like this one too.
Addy and the Smart Guy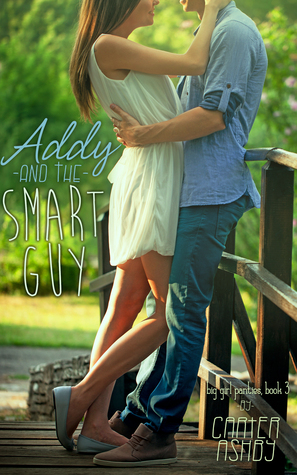 Genre: Romance
Rating: 2 out of 5
The last book in this series is Addy and the Smart Guy.  I'll be honest, Addy isn't particularly prominent in the other two books and I didn't really get a sense of who she was aside from Zoey and Maya's rich friend.  In this book Addy, who's in college getting her master's degree has been pining away for one of her professors.  Not just any professor, but one she's currently a teacher's assistant for.
Right away this is sending me a big huge red flag.  Just one of those lines you don't cross ethically.  I decided to keep reading, because who knows where the author was planning on taking it.
Meet Greyson, professor extraordinaire and kind of a douchebag.  I only say that because essentially he leads poor Addy on for YEARS.  Not by asking her out on dates, but telling her who she shouldn't date.  Effectively keeping her to himself, even though he has no intentions of crossing the line with her.  That is until one Spring Break where he decides it would be a great idea to ask her to come away with him to his remote cabin in the mountains where they can have an intimate tryst for a week and 'get it out of their systems'.
Honestly, I disliked both Addy and Grey in this one.   Addy had no backbone and had the personality of a wet doormat and Grey was a self-absorbed prick. Bah, I just didn't like this one.
The story then went quickly off the rails when they returned from their secret rendezvous.  No spoilers, but it was a train wreck.  The MCs also flip flopped on their intentions and desires faster than you can blink.  Annoying and just plain frustrating to the reader
Can't really recommend this one to anyone but those who loved this series and really wants to find out what happens to this last remaining bestie.
All in all, an average romance series.  I will give the author credit that she didn't leave any cliffhangers and you can read these individually, although it is better to read them in order.